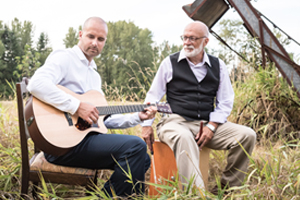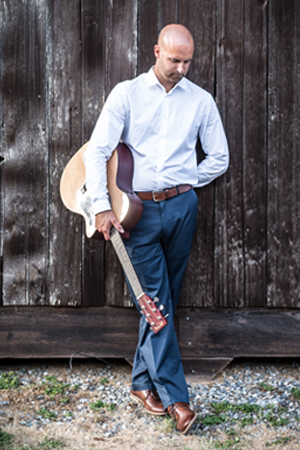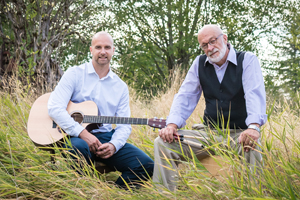 "Don't forget to smile and sing a happy song, cause this life we live, no it ain't that long."
Reflecting the positive, life-affirming tone of Evan Kennedy's music, these lyrics are not mere platitudes—they're about finding joy and optimism in day-to-day life. Inspired by his life experiences, love, friendships and travel, Evan's songwriting draws from a rich family history of folk, blues and rock music.
The third generation of Kennedy men to play the Vancouver music scene, Evan follows in the musical footsteps of his dad, Gary—a singer and percussionist with over four decades of local music-making with blues, rock and folk bands, including Sleepy John, Mantra, Risky Business and Skystone. His grandfather, Edwin—a blind, folk/blues harmonica player—shared the stage with the likes of the Rhythm Pals, Sonny Terry and Browny McGee and Charlie Musselwhite. Growing up surrounded by music—from Gary's jam sessions and band practices in the basement, to the always-on, multi-genre music of the family stereo—it's no wonder Evan picked up the guitar at 16 and started to play.
For Evan, music and family are intimately connected; Evan's first full-length, solo-acoustic album, Rollin', is truly a father-son labour of love. Recorded in Gary's studio, the album showcases the collaboration of Evan's songwriting vision with Gary's multi-instrumentalism (including harp solos on Grandpa's beloved harmonicas). For both father and son, playing and recording together is a gift that transcends the music. In October 2012 Evan released his second studio album, Vol. 2, which features Gary as well as Evan's sister Amber Kennedy.
Evan has crammed a lot of success into a relatively brief period of time as a recording artist and gigging musician. Evan's tune, Get Gone, was chosen among the top 20 for The Shore 104.3 FM Sounds of Summer Song Search Contest (2010). Evan competed against over 125 B.C. artists for the honour. His first band, The Sicks—voted third-best unsigned local band in The Georgia Straight's 2009 Best of Vancouver—broke onto the Vancouver music scene in 2006 with Evan taking the lead as frontman, singer and songwriter. The Sicks featured Evan's vocals at his carefree best. The first song Evan ever wrote—We Need More Reggae (found on The Sicks' 2008 full-length debut studio album, Take It All In) received airplay on 104.3 FM The Shore, where Evan has enjoyed live, in-studio appearances.
Evan gigs his solo-acoustic act at venues all over British Columbia including Vancouver, Whistler, and the Okanagan. Besides playing all his own original tunes, Evan creates a unique live performance mixing in lesser-known album songs with the songs of today.
Evan categorizes his music primarily as folk/rock, though country and other genres can be found in the mix. Non-family influences on Evan's songwriting include Neil Young, Jim Cuddy and the vocal stylings of Ben Harper.